Journey to 1K
Caprain Quiana Vazquez scores 1,000 points
Senior Quiana Vazquez played four years of Lady Sundevil varsity basketball.  This season, Vazquez was one of two 2022 players to reach an outstanding achievement of scoring 1000 points throughout their high school career. The other being senior Camron Kearney.
 Senior and varsity basketball player Riley Sheridan has played basketball with Vazquez since sixth grade.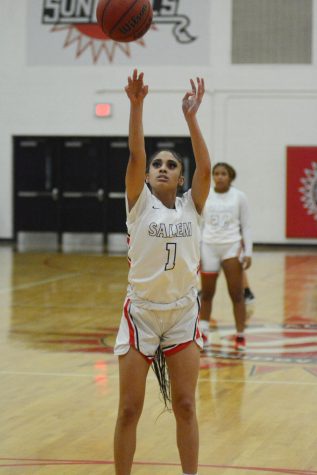 "As a player and as an individual, she's matured so much," said Sheridan. "She's a leader on the floor; she is decisive, she is strong, and she does what she needs to do to get what she wants, always. In the seven years that I've known Quiana, she's only become a better player, overcoming challenges, working hard, and not making excuses for herself."
This level of growth and accomplishment does not come without hard work and the support of those around you. Vazquez is the first to acknowledge that she would not be in the position she is in now without those who have supported her.
"My parents have always encouraged me and supported me since the first day I picked up a basketball," said Vazquez. "It's an amazing accomplishment, and I'm thankful for my teammates, parents  and coaches for helping me get this far and being so supportive through these crazy four years."
Not only did Covid impact the season, but players also had a new head coach, Mr. Jason Clark.
"My goal for her this season was for her game to mature and develop so she excels on the next level," said Clark. "She understands the importance of controlling what she can, and it makes all the difference."