Coach Clark 
Eight years with our girls varsity basketball head coach
Coach
Jason Clark
is the head coach of the girls varsity basketball team and has been a part of the program for the past eight years.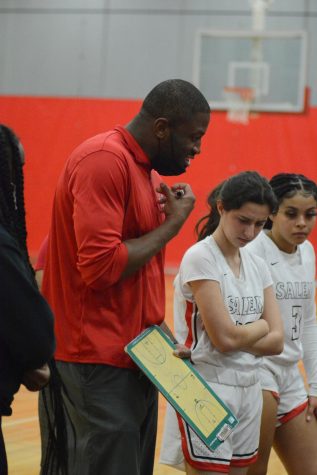 Q: How long have you been coaching basketball?
A: "I have been coaching Salem for 8 years and overall a total of 11 years."
Q: Do you prefer to coach girls or boys basketball? Why- what're the differences?
A: "That's a good question. The thought of me coaching girls never crossed my mind until I got the offer to coach varsity girls. My approach is still the same with the girls as it is with the boys. I enjoy coaching both the same, but for different reasons. Girls are more coachable while boys are more consistent with their energy."
Q: What are your strategies for coaching? 
A: "DEFENSE DEFENSE DEFENSE. Players have got to be able to play defense and enjoy playing defense. That's first and foremost. Offensively they need to be able to share the ball and execute the plays that are called."
Q: How do you feel you fit into the Salem environment? 
A: "I feel I fit in very well into the Salem environment. I taught PE at Glenwood Elementary before taking the security position at Salem so I already have a solid relationship with most of the kids in the building because of that."
Sarah Fernheimer assistant student activities coordinator
Q: What has been your favorite part about working with Coach Clark? 
A: "Coach Clark can be relied on to have meaningful conversations with students. He is able to connect with students that may not feel open to talking with other adults. Our students trust him."
Q: How does Clark help Salem beyond the court? 
A: "Coach Clark has a presence in the hallway, which has nothing to do with his NBA center-sized height, but all to do with his ability to build relationships with our students."
Q: Why do you think Coach Clark has meshed so well with the Salem program?
A: "He knows our community and culture."
Riley Sheridan varsity basketball player
Q: How has coach Clark helped you grow as a player and person? 
A: "Coach Clark has helped me grow as a player and a person by teaching me that it's ok to make mistakes as long as your growing from them and he also created a safe and comfortable environment for everybody making all of us feel like we had a place not being exclusive of anybody and he taught me a lot about perseverance and communication whether that's just on the floor or what's going on in my life."
Q: What is one lesson coach Clark taught you that you will never forget? 
A: "A lesson that coach clark taught me that I will never forget is that I should never be ashamed to ask for help with everything that I went through as far as my injuries and not being able to do a lot on my own I found that really important and something that I always need to stick by because I don't like to ask for help. He taught me and made me feel like it's not a bad thing and it's just a part of life and it will actually help me grow."
Q: What is your favorite memory with Coach Clark? 
A: "My favorite memory with Coach Clark is at our team celebration in 2021. We were at Topgolf and it was not only watching him attempt to golf, but also hearing his spiel about all of the individual players and players that he gave awards to and also watching him get emotional when we presented him with a team photo and signatures from all of the players."