Rock on, climbing club!
How two students started a club out of their favorite after-school activity
In recent years, rock climbing has taken off as both a sport and a hobby. So much in fact, that rock climbing became an Olympic sport in time for the 2020 Olympics. This popularity has reached young people as a way to work out, get outside, and problem solve.
"It's super fun and I love how it can sometimes be a puzzle," said junior Abbie Riegle, who has been climbing on and off for years, but at least twice a week in recent months.
Riegle and her best friend, junior Michael Robinson started climbing together back at the start of the school year, making their own little 'Climbing Club'. They loved climbing together, helping each other climb difficult routes and encouraging one another, so they wanted to introduce it to their peers at school.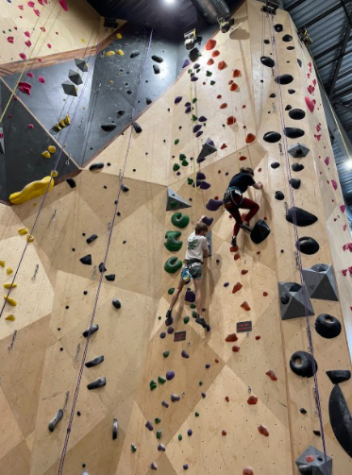 "I wanted people from Salem to see how fun and challenging climbing can be," said Riegle.
So, come January of this year, Riegle and Robinson began the process of starting their new club.
"With the help of our friend (and secretary) Kiley, we went to talk with our now sponsor Mr. McGee," said Riegle. "Then we went to the student activities coordinator to talk about what we needed to start our club."
Biology teacher Mr. McGee, a fellow climber, agreed to sponsor climbing club. McGee, Riegle, and Robinson decided to host an interest meeting to gauge how many students would like to join the club. And after weeks of advertising through fliers, morning announcements, and word of mouth, the meeting had a massive turnout.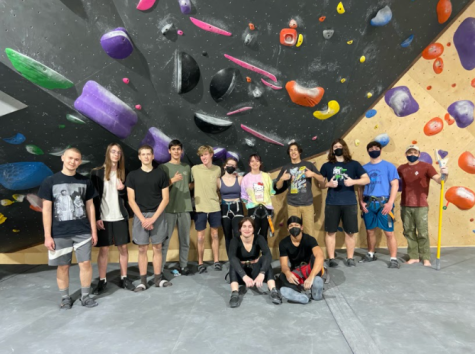 "We were so surprised to see how many people were as interested in a climbing club as we were!" said Robinson.
The climbing club hosted its first meeting at the end of January and has been meeting biweekly since then.
"Seeing our club become an actual club is a pretty cool feeling and it's fun seeing other people experience what we love to do," said Riegle.
Its success can be partially attributed to the flexibility of the club, as the meetings are open to all interested and last from 5 until 8 p.m., where climbers can stop by anytime between those hours.
"I feel like climbing club has been very successful and Abbie and I are very excited about the potential of the club with the great turnout we've had," said Robinson.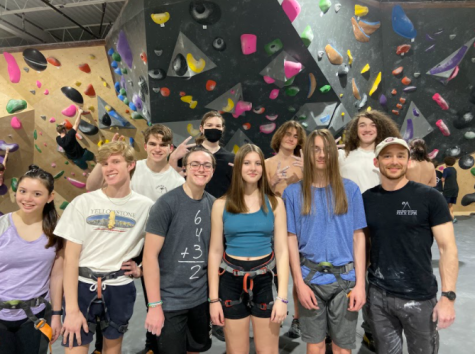 Climbing club is hosted biweekly at locally owned and operated gym Latitude Climbing and Fitness, located by Virginia Beach Town Center attached to Pembroke Mall. If you're interested in 'hanging' out at climbing club, check out their instagram page @shsclimb for updates or talk to Michael, Abbie, or Mr. McGee!