One Lunch
One lunch will be returning on select dates starting soon with a goal of full implementation second term
Currently, lunch is divided into four sections of 25 minutes each. Lunch has been different every year for the past three years. But three years ago, the year the seniors were freshmen, there was one designated 55 minute block called One Lunch. 
One Lunch is exactly what it sounds like. Everyone in the building has lunch at the same time, but that doesn't mean everyone is in the cafeteria. Students were allowed to eat in many areas throughout the building including hallways and certain teacher's classrooms. Clubs and sports also held meetings during this time. Though this may seem daunting to those who have not experienced it, students handled the freedom well.
The image below shows the areas that were open for use during One Lunch previously. This is subject to change, but can give you some idea of what to expect.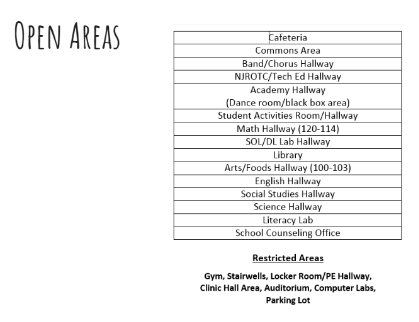 "My favorite part [of One Lunch] would have to be the ability to meet with clubs I participated in," said senior Liliana Negron. "We were able to get together and regulate our rehearsals and activities instead of spending time after school where I was already committed to other things."
As noted by Negron, One Lunch was not just a time to eat; it had many uses. Some students used the time for extra studying in the library, or to make up missing work with a teacher. The gym had limited availability for basketball and clubs held meetings in designated areas. Additionally, if there was an upcoming performance, the academy strands used the time for extra rehearsal. 
Senior Cailyn Wilson used her time during One Lunch to "meet with teachers" and to "go to the chorus and musicianship room to work on music."
You might be wondering how long the lunch lines will be if we have One Lunch. Not as long as you might think. There will be multiple hot lunch lines and a grab and go line in the cafeteria as well as one grab and go and one snack line in the commons.
"My goal is to start running one lunch trials at least two days a week starting in late October," said Principal Leeane Turnbull-Pallette. 
These trials will begin so long as adequate staffing can ensure school safety.
If all goes well, One Lunch could be permanent by the beginning of the second term. However, this is not guaranteed. We have to show we can handle the freedom of One Lunch if we want to keep it. 
Assistant Principal Gregory Moxley said he is not too concerned about poor behavior because he trusts students will act appropriately.
"I'm more worried about trash than anything else," said Moxley. 
Cleaning up after ourselves is vital to the longevity of One Lunch. 
Administration asks that if we want One Lunch we will need to:
Find an activity that benefits us and use our time wisely. 

Comply with all staff directions. 

Clean up after ourselves.

Remain in the designated areas.

Follow all school procedures and expectations. 

Do our part and report any suspicious behavior to staff. 

Get excited because One Lunch is on the horizon. Again, as this year's one lunch rolls out, we can expect to see some changes in the structure as school safety remains top priority, but let's show everyone we can handle it so we can keep it for years to come.
Follow @shs.press on Instagram. We will share the first one lunch date as soon as it is finalized.