Everyone digs the boys' volleyball team
What we can learn from a supportive and passionate team
The crowd cheers as the team gets their 24th point of the third set. The bleachers rattle underneath fans' stomping feet as they encourage the team to win their last point as the boys' volleyball team competes against Green Run.
The boys' volleyball team has generated a lot of attention this year because of their spirit and energy on the court. 
"It's amazing. I love that we finally have a crowd and it makes the games so much more lively and fun," said senior captain Harrison Merrill. "It's great to have people doing chants and having a good time. It really boosts your spirits as a player."
The team's liveliness has created crowds not only at the games, but also at other school events that they attend as a team. Even at the recent homecoming game, the team made an effort to show their support by cheering and painting themselves with school colors.  
"They've been more vocal about their matches this year thanks to their Instagram page [@salem_volleyball_],," said the team's number one fan, senior Rj Mendoza. 
Mendoza can be spotted at most matches with his friends, cheering and encouraging the team. 
"The crowd really separates a good team and a great team," said Mendoza. "Any team really needs a great crowd to keep their energy and mentality in check. Only good vibes." 
In fact, the team even makes an effort to show their support for the girls team. 
"Sometimes we'll be really down and they'll do stupid cheers on the side and they're all jumping in the stands," said junior Lexi Morgan who plays outside and DS for the girl's volleyball team "Yeah, it's just really funny and it helps get our mood up. And we don't even care what the score is anymore. You don't see other boy's teams doing that." 
The team never fails to inspire other students with their passion for the game. 
"Even when they're losing, they don't get down on eachother and they can be down a set or two and still fight back and win," said Morgan. "They don't give up until the whistle is blown and the game is actually over." 
They've put in a lot of dedication and hard work to achieve a high ranking this year. 
"It makes me feel good. We feel like we're being recognised for the hard work we're putting in." said junior DS, Nassir foster. 
In return for their positive energy, the boys have received overwhelmingly positive feedback from the people around them.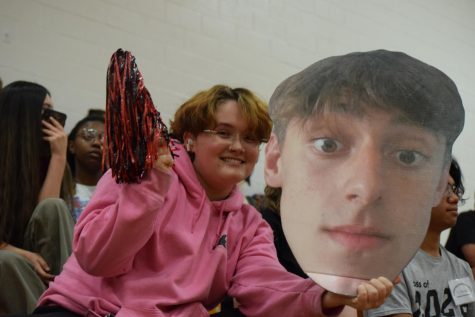 "I've learned a lot this year already, not just getting better at volleyball, but learning how team dynamics will help us play better and we can do even better the closer we are as a team."
Their current record is 9-8. The boys' volleyball team is an example of teamwork, dedication, passion, liveliness, and SunDevil spirit that we can all learn from.