Security Assistants Armed
Two security assistants now carry firearms
Have you noticed that two of our security guards are now carrying guns? Students and teachers have had varied reactions to security guards being armed.
Security assistant Ms. Candance Dejarnette believes that more trained armed security guards will keep Salem safer.
"I do believe that it is a needed necessity and it is a positive move for safety here at the schools," said Dejarnette. 
Dejarnette emphasized the importance of armed security assistants being "well trained and qualified." Of our armed security assistants, one is a retired police officer and one is a retired deputy sheriff so they both have extensive experience and training.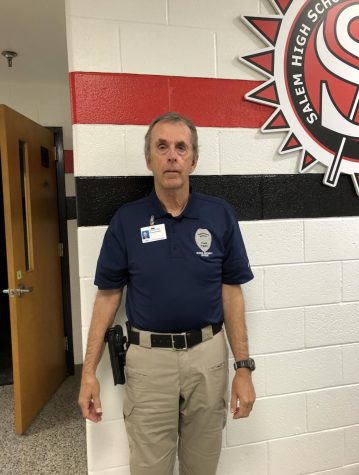 On the other hand, senior Kymoree Henry is uncomfortable with security assistants carrying guns.
"I think security guards don't need guns," said Henry. Adding that she is concerned they will "feel like they are the law, when they are not exactly."
Henry expressed how she had seen security with weapons before "in a mall or at school," so she was not surprised by it, but she felt less safe knowing that there is someone besides a resource officer possessing a weapon in school. 
Art teacher Binta Smith said that she found out a week before school started, but she "did not take it in" and was still shocked when she saw it. 
"I'm glad that schools are making it [safety] a priority," said Smith. "It's a shame that it's something they have to do, but it's a good thing that they are. It says a lot about schools in the district that they are thinking about the safety of students."
Smith believes that teachers also play a role in keeping students safe, in ways that do not include firearms, such as "making sure the hallways are clear," and "training" how to act in emergency situations.
The safety of students and staff is a top priority. Allowing security assistants to have weapons is an added safety measure the school system felt would keep us safer.