The SunDevil Squad
A community of dancers willing to work hard
From basketball games to pep-rallies, the SunDevil Hip Hop Squad is a community of dancers ready to put on a show.
"I saw squad at our freshman orientation and noticed how hilarious, connected, and funny the team was. I knew that would be a good home for me," said squad team member, senior Alexis Albright. 
SunDevil Hip Hop Squad is not only a club, but a home for many dancers from all levels and backgrounds.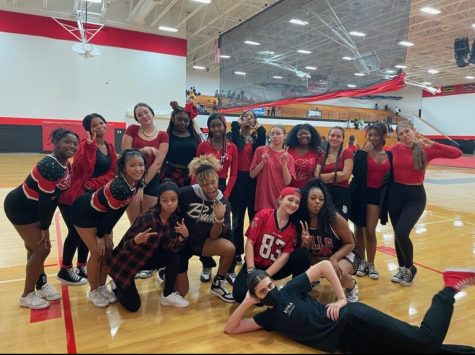 "Squad is for anyone who wants somewhere to belong" says current squad captain, junior Zahria Davis.
It is simple to join.
"Just be ready to give it your all and more," said Davis 
The Squad meets on Mondays and Wednesdays right after school.
"The Captains teach/clean choreography for their upcoming performances," said Albright. 
Many members have the same reasons for choosing Squad. 
"I chose Squad because high school was a completely different environment for me, and I knew I was going to want to be a part of something that would get me out there," said Albright. 
 Valuable lessons are learned from the team members and captains alike. 
"We ALL learn to work together as a team. Yes there are leadership roles, but they have to work together and make sure the team is ok with the decisions they made," said Albright.
SunDevil Hip Hop Squad is one of the many places a new or current SunDevil can find a place of friendship and showcase their dance talent. Everyone is welcome and encouraged to try out.