National Osu! Competitor
Senior CJ Tano competes in national tournaments in the game Osu!
On March 31, 2021, senior CJ Tano created his account on Osu!, a rhythm video game. Since then, he has dedicated himself to practicing and getting better at the game, and has even competed in international tournaments. 
Osu! is a rhythm game, where the player selects a song and clicks along to a beat map, which displays where to click and when.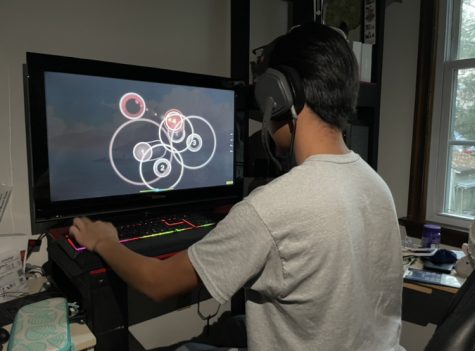 The game is extremely competitive, with various tournaments where players can challenge themselves and put their skills to the test. Tournaments allow the best teams to compete nationally and internationally. Before players are allowed to compete, teams have to be seated, which Tano describes as "a fancy way of saying how you were ranked compared to the other teams."
Tano has participated in numerous tournaments, but his biggest two were the 6 Digit World Cup and the 6 Digit State Cup, where he played for the United States. 
"We got knocked out in the semi-finals, but it's okay," Tano said. "We made the other team work for it. And it was quite the experience. It really gets your adrenaline pumping. I know it's just a game, but it's the rush."
Tano says that it's the thrill that brings him back to playing. He likes to compete because it allows him to improve his skills and he loves how improving comes easily to him, but he still puts in his work for it.
"I really like to get better at things. It [Osu!] is right in the middle of easy, but not too easy, and it's really satisfying. And It's just fun for me," said Tano. 
Tano's  friend, senior Harrison Taylor, believes that Tano's love for music also drives his motivation to continue playing. 
"When he started playing, it started with his love for music," said Taylor.
However, while it is an honor to play on this level, there are downsides. Practicing anything requires time management, and Tano says he struggles with this. 
"I was trying to write an essay for Dual Enrollment, and I couldn't find good research, so I relieved my stress by playing Osu!" said Tano. "I sat there for a good 30 minutes and played carefree. When I came back to the essay, I was able to get some work done, but it did start to get in the way. Sometimes, I go to work, and when I get back, it's straight to Osu!." 
Even so, this does not stop Tano from playing and encouraging his friends to play as well. His friend, senior Jess McMillan is one of them. 
"Randomly in class, he'll bring up Osu!… he'll advertise Osu! to everyone," said McMillan.
McMillan has also noted that Tano posts videos of him playing Osu! during his livestreams on Twitch. 
Tano is certainly dedicated to Osu!. If you'd like to learn more about the game check out the Osu! homepage.