Assistant Principal Jennifer Knight witnesses Congress passing "The Iran Hostages Congressional Gold Medal Act"
Knight's father was among the 52 Americans taken hostage in Iran in 1979
November 4, 1979, 52 United States diplomats and citizens were taken hostage after a group of Iranian college students supporting the Iranian Revolution, took over the U.S. Embassy in Tehran. One of those hostages was Assistant Principal Jennifer Knight's father, Navy Captain Don Allen Sharer (1940-2021). Sharer and 51 others were held hostage for 444 days.
During that more than year long captivity, the hostages were told every day by the Iranians that the US had forgotten about them, but that certainly wasn't the case.
Knight was in 4th grade at the time.
"He moved to Iran when I was in second grade so he lived in Iran," said Knight. "He was a fighter pilot and his job was to train the Iranian air force on how to fly F-4s because the US was friendly with Iran when the Shah was in power so we used to sell old military hardware to them."
Captain Sharer was ready to return to the US, and was, in fact, in the embassy filing out his paperwork to come home the very moment the militarized group of students stormed the embassy.
On the other side of the world, right here in Chesapeake, Knight did not find out what was happening to her father until she got home from school.
"I remember coming home from school," said Knight. "The phone rang and it was the news channel. A reporter told me that my dad was being held hostage. I didn't even know what a hostage was."
When Knight asked her mother, Fran Sharer, a teacher at Princess Anne High School, about what was happening she told Knight that "it's like he's on a Navy cruise, but this time we don't know when it's going to end."
Over the entire 444 days Captain Sharer was held hostage, Knight's family only received two letters.
"The Red Cross came in on Christmas and he got to do a Red Cross message," said Knight. "He wrote letters every single day, but we only received the two cards that were sent through the Red Cross."
The hostages faced extraordinary hardships during their captivity and Knight, her mother, and the families of the other 51 Americans suffered their own form of torture over those 444 days, through a failed rescue attempt, and political gridlock, for their loved ones to be released.
When that time finally did come, there was a sense that it was imminent, but Knight didn't know for sure until her elementary school principal came to the door and asked her to come with him.
"He took me to a room with a television set to see the hostages leaving and arriving in Algiers," said Knight. "They spent a week in Germany doing medical and psychological decompression before coming home."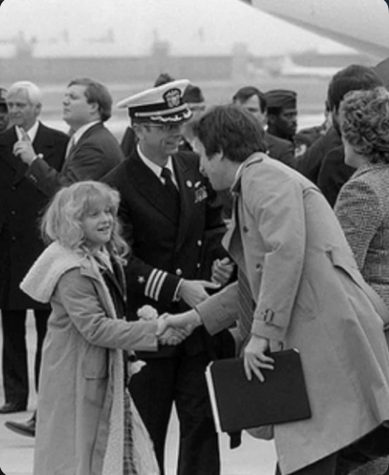 Knight was overjoyed to see her father again, but noted that "he was a different person."
When I asked if it was difficult for her dad to adjust back to "normal" life, she simply replied, "yes" and did not elaborate, which speaks volumes to the trauma that her father and her family endured.
In the years since his release, Captain Sharer was heavily decorated for his service. Those awards include: the Legion of Merit, Distinguished Flying Cross, Bronze Star, Defense Meritorious Service Medal with Gold Star, Air Medal (19), Navy Commendation Medal (V), Navy Achievement Medal, Navy Expeditionary Medal, National Defense Service Medal, Vietnam Presidential Unit Citation, Vietnam Cross of Gallantry, Republic of Vietnam Campaign Medal, and Southwest Asia and Kuwait Liberation Medals, but something even more momentous is in the works and this is why Knight visited Congress on December 6. She was able to observe the passing through Congress of a bill that would award her father and the other hostages (or their surviving family members) a Congressional Gold Medal of Honor.
Knight traveled to Washington DC where 34 other hostages and/or family members represented what she calls "our class" (those immediately impacted by the crisis). She spent eight hours on Capitol Hill and refers to the experience as "surreal."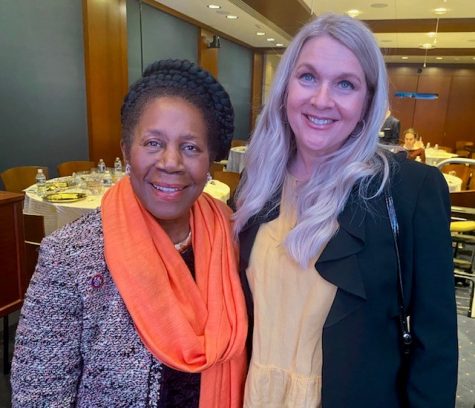 "We were met on the steps of the Capitol by Mr. Brock Pierce, an international philanthropist and the Friedlander Group, a government and public relations group whose founder has adopted our cause; he specializes in bringing justice to victims of crime and terrorism," said Knight. "We were escorted to a banquet room in the Capitol and Members of Congress, from both sides of the aisle, from around the country including: Congressman Bob Good of Virginia, Congressman Tom Suozzi of New York, Congresswoman Shirley Jackson Lee of Texas, Congressman Glen Thompson of Pennsylvania, and Congresswoman Debbie Wasserman-Schulz of Florida all visited, bringing well-wishes, and support. It was heartwarming to hear each of them speak about the joy of working together on an issue requiring bi-partisan support."
Knight was also introduced to Consulars from Greece, Vietnam, Tibet, and other nations who were there to show their support. Each of the hostages and family members were presented with a beautiful commemorative plaque displaying a golden replica of the U.S. Capitol with their loved ones' names inscribed.
The group was served "a delicious lunch," and then treated to a tour of the U.S. Capitol.
"An absolute treasure—statues, artwork, architecture were all amazing," said Knight.
They were then escorted into the Gallery of the United States House of Representatives and witnessed the passage of H.R. 1179, "The Iran Hostages Congressional Gold Medal Act."
"Congressman Suozzi acknowledged us and everyone clapped for us and we waved," said Knight. "It was so special to spend time with the hostages and their family members."
Knight's goal was to represent her father well.
"I sure wish he could have been here to experience today, or if Mom, Jeff, John, or Mekhi could have attended, but the Good Lord has a funny and mysterious way of surrounding you with the people you need," said Knight.
Knight's friend, Amy Nanney Sizemore, accompanied her to the event.
"Amy was there with me on Day 1 of the Hostage Crisis at Butts Road Elementary School," said Knight. "She celebrated with me when Dad came home, experienced some of the aftermath with me, mourned with me when he passed—she was the perfect person to be by my side."
Reflecting on the experience just over a week after, Knight noted that she wishes every United States citizen would have the opportunity to sit and spend a day in Congress.
"I didn't see the contention that everyone talks about," said Knight. "They all live together in bi-partisan houses. A lot of what you see on the news isn't true."
"The Iran Hostages Congressional Gold Medal Act" now goes to the Senate and could pass as early as this spring. According to the United States Office of the Historian, the Congressional Gold Medal is awarded "as its highest expression of national appreciation for distinguished achievements and contributions."  If and when it does pass, Captain Sharer will posthumously be awarded the Congressional Gold Medal and join the ranks of George Washington, William Henry Harrison, the Wright Brothers, Thomas A. Edison, Bob Dole, and Neil A. Armstrong just to name a few.  The original gold metal goes to the Smithsonian. The silver one goes to the hostages if they are still alive or family members.
The SunDevil Times will update this story when the Act reaches the Senate floor.
Captain Don Sharer discusses the beginning of his 444 days as a hostage in the Iran Hostage Crisis with Bloom contributor Jeremy Shere. Video by Lynae Sowinski.