A comprehensive review of every water fountain at Salem
Salem is home to many different water fountains and bottle refill stations. To find the best water, alum Jaime Corley and I traveled the halls to taste-test every single one to give our honest reviews. Hydration is critical, especially for the growing teen, so it's important we find the best water for our peers. 
Interviewing other students, opinions on said water fountains are scattered, but there are a few favorites that stand out. 
Some students have their hearts set on a favorite fountain, while others are loyal to the fountains conveniently located to work with their daily routine.
 "I usually go to water fountains that are convenient," said senior Ezra Decastro, "especially the one in the ROTC room and the water bottle refill station in the commons: on the way to tennis I'll refill it there."
Others prefer to just drink water they bring from home. 
"I don't trust school water fountains," said senior Howl Bates. "I fill my water at home and if I drink all of that…I suffer."
The water fountains are a surprisingly divisive topic amongst Sundevils. I didn't expect such strong opinions.
"My favorite one is the one when you come out of the small gym, and it's right there next to the bathroom. It's the coldest, that's why," said alumni Jalyn Brown. "[The worst ones] are probably the ones upstairs, they're all bad."
We sampled each water fountain and rated them on a scale of one to ten. 
Please note that even though we didn't enjoy all of the fountains and some of the water had a metallic taste, all of our fountains are safe to drink from.
"Virginia Beach City did an extensive water study on water quality in all the schools and reported on the lead content in all water to ensure your water is safe to drink," said Assistant Principal Gregory Moxley.
More information about this study is available on the VBCPS website.
WATER BOTTLE REFILL STATIONS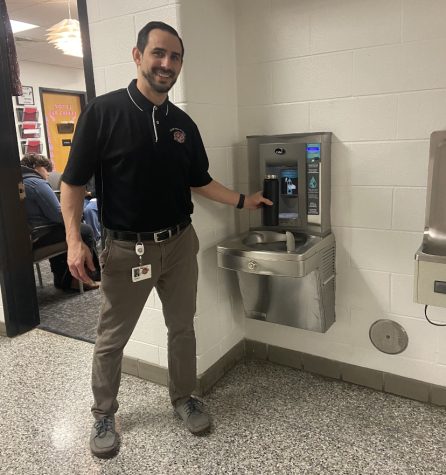 History Dept. (B Stairs)
5/10
The water isn't cold, but it's not the worst in terms of taste. Mediocre.
Commons (boys bathroom)
5/10
This refill station is pretty good. It's in a convenient location, has good flow, and is slightly cold. But, it has a slight metal and tap water-esque taste. 
Science Hall (A Stairs)
4/10
The location of this water bottle refill station is convenient and there is good water flow, but the water isn't cold and tastes metallic. 
Guidance Office
4/10
The water isn't great: it's metallic tasting and a bit warm. 
REGULAR WATER FOUNTAINS
UPSTAIRS
History Dept (B Stairs)
10/10
This water fountain has it all: convenient location, cold temperature, and good taste. For school water, this is perfect. Ever since our survey, I've been using this water fountain almost every day. 
English Hall (high)
5/10
This water is cold, but it tastes bad. You win some, you lose some. 
English Hall (low)
4/10
This water is not cold and tastes mediocre.
Language Hall (girls' bathroom)
4/10
The water at this fountain is lukewarm and tastes okay, but not standout-good. 
C Stairs Boys Bathroom
3/10
This water fountain isn't the worst. It's fairly warm and the water pressure is irregular but it doesn't taste bad. 
B Stairs Hall
2/10
This fountain's water is bad. It's lukewarm and tastes like tap water.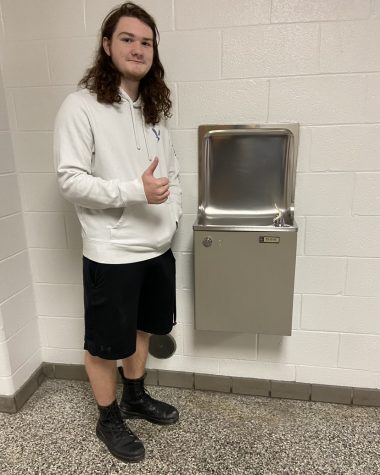 DOWNSTAIRS
NJROTC
10/10
This fountain is a favorite. The room itself is cold and secluded, so it has an exclusive factor. The water is cold and tastes good! 
Guidance Office
10/10
The guidance office fountain instantly certified itself as a favorite for Jaime and I. It's very cold and tastes just plain good. Since our review, it has been my go-to downstairs fountain. 
Cafeteria
9/10
This water is good! It's nice and cold, but there's a slight taste of metal.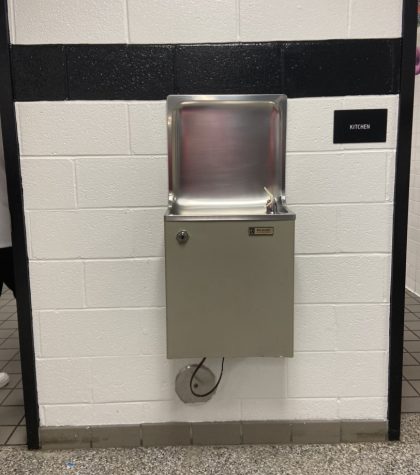 Band Room
8/10
Despite the slight metal taste, this water tasted pretty good. The atmosphere of the band room made testing it a good experience. We knocked the score down a point for the low water pressure.
Leave a comment on this story with your favorite or least favorite water fountain.
Music/Gym Hall
6/10
This water fountain is famous among gym class students. There's a slight chill to the water and the taste isn't bad.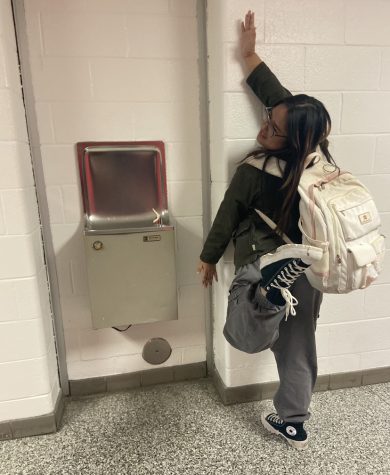 Chorus Room
5/10
The exclusive factor is not enough to save the score of this fountain. The water is cold, but the water pressure is bad. It tastes like stale tap water. 
400 Hall
5/10
As the only water fountain in this hall, it's not awful. The water has a slight chill, but the water pressure is bad and makes it hard to drink from.
Outside Library
3/10
This water fountain is in a good location, but the water is warm and tastes stale.
100 Hall
3/10
This one doesn't taste too bad besides a slightly stale taste, but it is warm.
Commons (boys' bathroom)
3/10
This water is lukewarm and tasted like tap water: not good. But opinions are split on this fountain. 
D Stairs (boys' bathroom)
2/10
This water fountain is not our favorite. Frankly, I think it tastes like old tap water that's been sitting out way too long. It's warm and tastes stale.
C Stairs (girls' bathroom)
2/10
The location makes this warm and stale-tasting water taste worse, as it's right next to the bathroom.
Commons (girls' bathroom)
2/10
Both these fountains have lukewarm, metallic-tasting water.