Prospect: A Review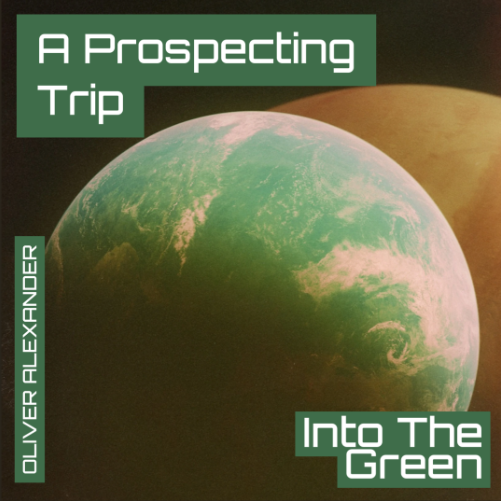 We are thrown right in, on a remote alien woodland planet where actor Jay Duplass plays a stoic widowed father, with actress Sophie Thatcher as his stressed young daughter, traveling with him in hopes of collecting organic gems as profit. After a generous crash landing, the two only have a small window to seek out the valuable gems.
Prospect; Written and directed in 2018 by Zeek Earl and Christopher Caldwell, this minimalist offbeat and grounded sci-fi film caught my eye the moment I watched the preview. I remember watching Prospect on Netflix in the living room of my old house while we were moving. My mother and brothers stopped just to watch the tense frames.
Being a binger and critic of horror, thriller, sci-fi, and mysteries, I was interested in the performance of the cast, specifically the well-known actor, Pedro Pascal. 
I thoroughly enjoyed the plot because it's realistic and simple, so I give it a rating of 8/10. Although one of the only reasons I rewatch this movie is for its cinematics. I love rewatching Prospect for the aesthetic of the world the story has built, but not much for the story itself.
It seems like the characters have it bad; they are tired and burdened. I believe that it even rubs off on viewers and I think that's impactful.
What I love the most is that you can relate to every last character, understand their personalities, and their survival instincts. Cee and Ezra's relationship is a found family trope that I've always loved. I give character analysis and acting a 10/10.
Prospect aims for a target audience who loves cinematography. I believe it's strongest feature is the graphics, and if you arent big on cinematography, this movie is a miss otherwise. As for the pace, sci-fi movies typically want you to gawk at the world they create, not slide past it and I think it's perfect how we get the time to pick up every aspect of The Green planet. Cinematography and pacing receive a score of 10/10.
According to Verge writer, Bryan Bishop, "this is a story about a young woman forced to grow up in the harshest of circumstances, and while Cee learns to toss away loss, vengeance, and regret in the name of practicality, the very real human cost of those choices is left almost entirely unaddressed." 
I believe that Cee is still missing important character development around the end of the movie. She is a crucial focus and that leaves the movie feeling a bit unfinished. It's unfortunate, but if the young main character had gotten her emotional aspect touched on one last time, then this film would be a perfect 10. For that reason, my overall score is 9/10. It's a movie that I continuously return to and I highly recommend this to other binge watchers who love the indie sci-fi concept.