Getting to know the Black Student Union leaders
Salem is known for its diverse and well connected community and now we have another opportunity to come together and celebrate our diversity. The Black Student Union club is now being advised by Mr. Michael Powers and led by seniors Amarisee Coward and Adrianna Savage. All students are welcome to join. The Black Student Union Club meets on the third Tuesday of each month.
Senior Amarisee Coward
Q: What do you plan to get out of this club
A: I hope that we can create another safe space within the Salem community, specifically for black students and allies. All I can really say for right now is that I hope we have a good foundation since not too long ago the Black Student Union was not a thing. From where we are now, I hope we can continue to grow throughout the community.
Q: What do you have planned for the members of this club?
A: "Honestly, this year is all about getting our name known through the Salem community whether it be through events, holidays, parties, or posters. I am really trying to get our name out there so people know that we are here.
Q: Do you believe this club will be successful even after you graduate and are there steps to keep the club functioning?
A: Obviously yes, I think there are going to have to be some things to be put in place in order for it to succeed, like having an ongoing president from the previous year picked, so before we graduate we will pick the president for the next year. We don't have the same foundation as more established clubs, but this is the goal.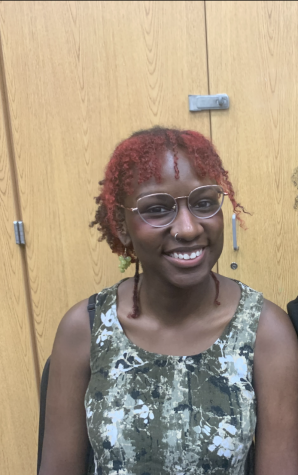 Senior Adrianna Savage
Q: How does this club correlate with your passion project?
A: I feel like my duty is to help the world, or at least Salem, understand the importance of uplifting and showcasing black voices and stories. For my passion project I will be helping Ms. Mcgee create the Black History Month presentation. Being the co president Allows me to encourage our group to help with promoting the presentation. I plan to have some executive members to help me execute this goal.
Q: I know you plan to attend an HBCU (Historically Black College/University) how does this choice correlate with the club?
A: Since I will be attending an HBCU this time next year, this club feels like a preview of what my life will be like next year and it makes me excited. Amarisee and I actually completed our practicums/job shadowing for the vocal strand together at NSU. The environment was lovely there, definitely anticipating HBCU campus life.
Q: How big of an impact do you want this club to have in the Salem community?
A: I know I can't do much, I just want to create a safe community that will be around even when I've graduated. I feel like this has given me a better chance to promote myself and the club. When we brought the idea up to Mr. Powers he was very pleased that Amarrise and I would be the co-presidents; it allowed us to talk more about the black experience with him.