We have a new School Resource Officer
Introducing and welcoming Officer Jeremy Abrecht
Joining our security team is our new School Resource Officer (SRO), Jeremy Abrecht.
He was born and raised in Virginia beach and graduated from Bayside high school. He enjoys playing music, hockey, tennis and fishing in his free time.
Abrecht did music full time as a career before becoming a police officer with the Virginia Beach Police Department (VBPD) and has been a police officer for 12 years.
Before becoming an SRO, Abrecht was on street patrol at the 4th precinct.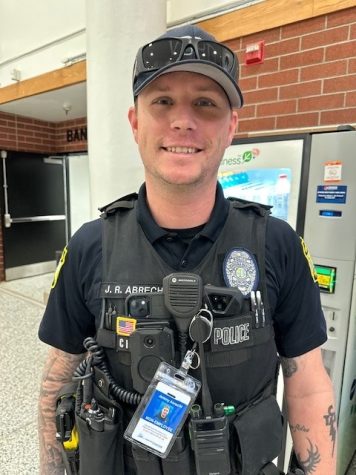 "I would respond to calls for service and enforce traffic infractions. I was also a part of our mobile tactics division for a few years," said Abrecht. "I also was a part of many operations with people running for president as well as the current president and worked with secret service for security details."
According to Abrecht the most difficult part of being an SRO is "knowing what is going on in the school and developing a communication system with the students and teachers." He added that "we need to communicate and work together to make sure everyone is safe and happy."
Abrecht's favorite part of being an SRO is the positive difference he can make.
"Sometimes with things in the media, and stereotypes people have for police there is a timid response when people see us," said Abrecht. "So it's important to let students know that the police really are there to help you and that we are human beings like anyone else."
He says that he is "extremely easy to talk to" and anyone is more than welcome to say hello and "build a solid relationship here at Salem."
"So far, the staff and students that I have had the opportunity to interact with have been very warm and welcoming," Abrecht said. "Everyone has on a smile and positive attitudes."
Something that he wants us all to know is that, "I am here to keep the school safe, as well as educate students on the laws of the world, as they are all about to go out there as adults."
Abrecht is looking forward to his time here as SRO. If you see him in the halls make sure to welcome him.