Brickell Scholars Announced!
Congratulations Emily Euler and Lucas Gordon
The E.E. Brickell Scholarship is a $6,000 merit based scholarship awarded by the Virginia Beach Rotary Club. After a series of seminars, the pool of nominees will be narrowed down to one official winner of the scholarship. Yet, even if a nominee for the scholarship does not win, they are still a recognized E.E. Brickell Scholar. A very esteemed and prestigious title.
Of all the thousands of high school seniors in Virginia Beach, 22 of those students are chosen to be E.E. Brickell Scholars, two from each high school.
Our E.E. Brickell Scholars are seniors Emily Euler and Lucas Gordon.
Emily Euler: SCA president, Salem Speaks member, Superintendent Student Advisory Council, SHSLW staff member, NHS and Rho Kappa member, VPAA Visual strand major and Theatre minor, and general assembly of Class of 2023.
Lucas Gordon: Rho Kappa president, VPAA Vocal strand president, NHS treasurer, SHSLW staff member, VPAA Vocal Tenor and Bass ensemble member, and general assembly member of Class of 2023.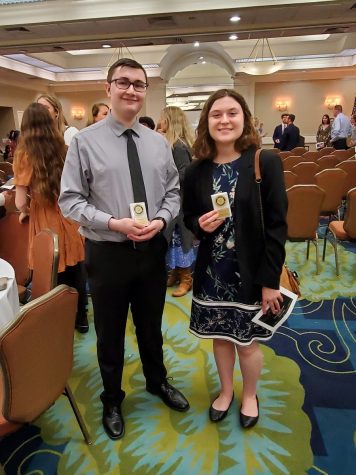 "I have dedicated many hours to bettering the school community, whether it be during after school hours, in the mornings, on weekends, or even breaks," said Euler. "I believe that success does not come without sacrifice."
Though, finding balance within that sacrifice can be a journey.
"If you ask any of my friends, they'll tell you how many sleepless nights and opting-out of social gatherings went into my various successes," said Gordon. "I hold my regrets about a few of them, but I'm currently working at trying to create a better balance between my studying and my personal time."
Despite the fact that Euler and Gordon had to give up much of their time, the scholarship has acknowledged and awarded them for all of their hard work.
"I am so thankful to be recognized for this honor," said Euler.
The E.E. Brickell scholarship is not only a recognition, but an educational experience as well.
"I am happy to represent the Salem community at such a critically-acclaimed conference," said Gordon. "I do believe that the real reward that comes with such a privilege is the ability to attend the esteemed leadership seminars."
Although both Euler and Gordon have extensive academic resumes, and have been deemed scholars of a high honor, as a friend to both of them, I can say they are so much more than those titles or reputations.
Euler is an incredibly kind person. She has a soft and infectious laugh and is always willing to lend help to anyone around her who needs it.
"I plan on attending college to pursue a degree in biochemistry. I would like to participate in scientific and medical research to hopefully solve some of today's medical mysteries," said Euler.
Gordon is actually quite funny. He is also an amazing listener and has an incredibly open mind. He is also willing to put others before himself.
"Following my time here at Salem," said Gordon. "I am quite excited, as I have committed to the Batten Honors College at Virginia Wesleyan University to study history and political science, with the hope that I will find myself back in the classroom as an educator."
Our two E.E. Brickell Scholars have done great things in big and small ways and undoubtedly will only continue to leave positive impacts in their wake.