Our Access Advisor is here to help you
ACCESS counselor Akeda Hunter can help you figure out how to pay for college
High school graduation is a milestone, but deciding what comes after can be challenging. That's where ACCESS counselor Akeda Hunter can help. As an ACCESS counselor, she offers resources and guidance that help students make post-graduation plans, whether it be college, trade school, military, or something else.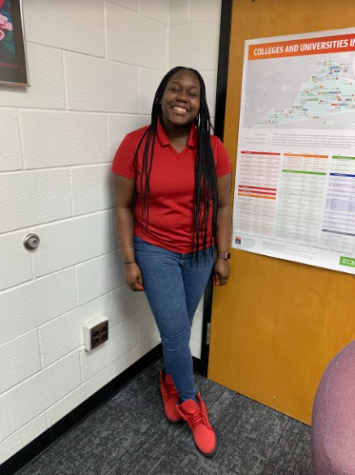 "ACCESS is an organization that's been around since 1988," said Hunter. "We're placed in 30 different high schools, from here to the eastern shore, to assist students with anything that comes with overall next-step preparedness and making sure it's the best financial decision at the end of the day." 
Hunter highly recommends every student complete the FAFSA (Free Application for Federal Student Aid) to ensure they get the most financial aid they can. While the FAFSA does not give out scholarships, it determines eligibility for grants and fee waivers.
"A lot of students aren't filing the FAFSA, and a lot of money gets left on the table," said Hunter. "If you are a U.S. citizen and you are eligible to file the FAFSA, you are going to be eligible to get some aid. It just may not be the aid that you want, like loans or anything like that."
Besides the financial aspect, Hunter gives guidance and advice in the college application process.
"Keep your options open— do not cut yourself off before you give yourself the chance," said Hunter. "Your grades are not where it ends when it comes to applying, and they don't determine who you are and your value as a student either… you have so much more than you would even know. So much more."
When it comes to the college application process, Hunter encourages students to keep track of deadlines and seek help as much as they need. The time to get to know Hunter is junior year or sooner. Don't wait until college applications are due.
"Don't miss your deadlines," said Hunter. "And use your supports. We are here to make sure you all stay on top of it. We're here to just answer whatever questions that you have— do not be afraid to ask questions."
Aside from working with upperclassmen, Hunter also works with underclassmen to help prepare them for the future. With freshmen and sophomores, she works to have them create RaiseMe accounts, which allow them to look into micro-scholarships. She also discusses the importance of, "making sure you keep your options open." 
"And then for junior year we continue those same things," said Hunter. "We start working together, exploring those colleges, (and) exploring SAT prep."
Thanks to her help, students find post-graduate planning easier and end up receiving more financial aid for college than they thought possible. Undoubtedly, her assistance proves very valuable.
"I would recommend students go to Ms. Hunter because she is so straight with deadlines and she's so helpful with everything," said senior Miyh Salas.
If you want to meet with Ms. Hunter to discuss post-graduation plans, you can set an appointment with her on calendly.com/ahunteraccess. You may also drop by her office in guidance.