Environmental Studies Program (ESP)
How ESP is redefining education
Understanding how our actions directly impact our Earth is vital. As our Earth grows older, and more generations pass, the need for sustainability increases rapidly. Environmental science research is necessary for evaluating the damage we have already done to our Earth and for discovering ways to reverse and prevent it.
The Virginia Beach City Public Schools Environmental Studies Program began taking students just a few years ago. According to their website, they offer "a unique opportunity for students to expand their understanding of sustainable economics and business innovation, social sustainability, environmental sustainability, and natural resource stewardship. Through experiential learning and community partnerships, students will learn about sustainability and expand their hands-on STEM experiences."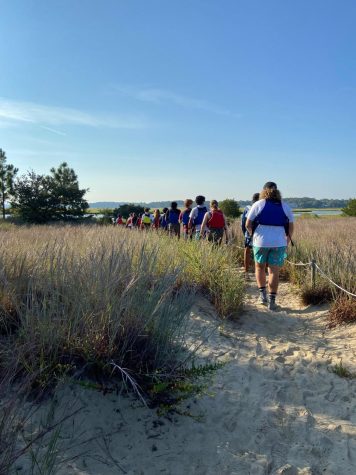 "In ESP [the Environmental Studies Program], we learn how to act towards environmental issues," said junior Jesse Gutierrez. "We are given the platform to be able to explore and tackle issues that are provided for us, or curiosity-based issues. At ESP, we are also given the tools to do field work of every type." 
Environmental studies give students the ability to understand and observe the diversity of various plants and animals all over the world, as well as the threats that they face. Studying what affects biodiversity in our environments will allow us to come up with new ways to help protect endangered wildlife and ecosystems.
"I feel like a lot of students would benefit from ESP even if they're not entirely sure what they want to pursue in the future," said junior Brenna McDevitt.
There are several environmental conservation centers in Virginia Beach, but Brock Center, where the Environmental Studies classes meet, was built with the purpose of engaging, encouraging, and teaching our youth to research ways to help save the Bay.
"We learn a variety of topics about how to be more sustainable, what environmental problems we are facing, and opportunities for our future," said junior Melina Delacruz-Tran.
Currently, the Environmental Studies Program offers the following classes for juniors: AP Environmental Science, Watershed Hydrology, Natural Resource Management, and Sustainability: Core Concepts & Environmental Systems. Seniors have the option to take various internships alongside passion and research projects.
"We do a lot of fieldwork and hands-on learning experiences, which not only allow us to learn with real-life context but also gives us a chance to experiment and get genuine results," said junior Sophia Moritz. "All of our nature walks and seining days [fishing with a net] allow us to see the native plants and animals in our area and get data on the population levels of them all."
The program provides a variety of opportunities for students to explore sustainable economics, natural resource protection, and social and environmental sustainability. 
"ESP has given me so many amazing opportunities," said junior Quinn Zelinski. "I'm serving on the Parks and Rec Commission for city council, and I was a representative at Pharell's Mighty Dream Forum . . . I've connected with leaders in environmental fields for possible career opportunities, talked to colleges like Virginia Tech about their programs, and they [ESP] are setting us up with internships of our choice next year."
Junior Mason Lemmons loves that the presentations they see from professionals and the field experience they get from being in the program are something entirely exclusive to ESP.
"The classmates are great," said Lemmons. "We are a small, tight-knit group, and it really is a great environment to be in every day."                                                                                                            
Additionally, the Environmental Studies Program is extremely flexible in terms of class activity. From boat trips to excursions, animal inspections, and teaching other grades, students are able to not only build experience, but gain insight into different career paths. There's something for everyone.
"I love the freedom and flexibility we have," said McDevitt. "We're not stuck in a classroom where we're forced to learn at the same pace as everyone else. We can learn and explore what interests us, and we never know what the day is going to bring, which keeps it fun and interesting."
Near the end of junior year, rising seniors are given a multitude of choices for various internships at different locations. For example, there are internships available for marine sciences, dendrochronology, coding, landscaping, and architectural experience.
"The whole experience at ESP can be individualized," said junior Cali Mitchum. "I think you get out of it what you're willing to put into it."
Students who are interested should consider applying to the Environmental Studies Program held at the Chesapeake Bay Foundation's Brock Center next year. (More information and event dates are here.)
"I would recommend [ESP for] students that are willing to go outside and are good to walk at least a quarter mile or more each day," said junior Philip Durant. "[Someone who is] not scared to be in a close community." 
The Environmental Studies Program not only prides itself on developing nature-conscious and career-ready students, but also on the welcoming community it has built for its students.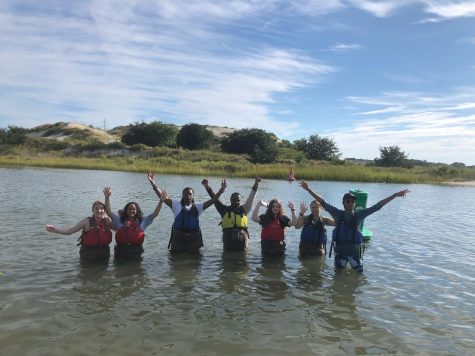 "I love how warm and welcoming the program is from the teachers to the students," said Delacruz-Tran. "It's so special because everyone has the same goals and you feel comfortable really easily."
Students don't need any prior experience to join, as long as they are willing to make an effort to succeed. There will always be fellow classmates and teachers ready to help and provide support.