Bad Cree: A book review
I give Bad Cree by Jessica Johns an 8/10.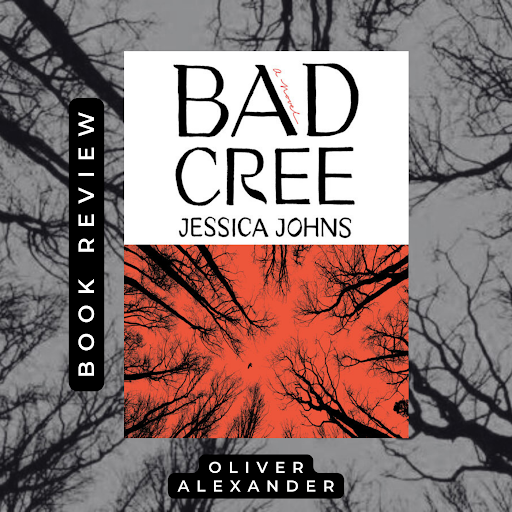 I saw this book in the front section of the library, where they display their new arrivals.  I love supernatural and horror genre books- as well as folklore so when I saw Bad Cree, I was walking out of the library with it in my hands without a second thought. 
According to Mariko Hewer, a freelance editor and writer for the Washington Independent Review of Books, "Sometimes, a book is such a slow burn, you don't realize what's happening until everything is on fire. Jessica Johns' Bad Cree is such a book, filled with dread, sadness, and supernatural elements that, when combined, offer powerful insight into loneliness and the importance of friends and family — in short, one's own tribe." 
The main character's name is Mackenzie "Kenzie" and she is Cree, like the rest of her family. Cree, and what is referred to as Nêhiyawak once, is the most widespread and largest Algonquian-speaking Nation of indigenous people. 
Immediately readers are introduced to the main character's current conflict. She's having dreams, or visions, about crows. Even outside of her sleep, the crows are watching her. A rift was created between her loved ones after not attending the funeral of one of her sisters, Sabrina. Since moving to Vancouver and the funeral, Mackenzie has been having fear inducing dreams that feel all too real. She witnesses the death of her sister repeatedly and even brings items back from dreams after waking up. 
Joli — co-worker and friend to Mackenzie — suggests she return home for guidance through her journey to find they only become worse. 
According to Good Reads, "this [is a] gripping debut tinged with supernatural horror."
For many, it's hard to have the patience to read, and most don't typically enjoy the first pages of a book, but this one is worth the read. I think it does an amazing job of introducing characters –even their habits and energy– as well as keeping you engaged in the first 20 pages. 
The plot is very intriguing. The pacing is perfect, especially leading up to the intense thriller parts. There's literary genius when it comes to some of these pages — Such as:
 "A stinging in a cut I can't see starts in the bed of my hand and travels through my arm, inches into my armpit, slides into my heart." 
For people who would like the supernatural and a quaint suspenseful small town feel, I definitely recommend trying this new novel out.